A guest contribution by Sebastian Goeß, electric motorcycle driver from Würzburg, Germany. Instagram: @sebastiangoess
Is it possible to drive from the northernmost to the southernmost point of continental Europe with an electric motorcycle? There was only one way to find out – so I charged up my Zero SR/S and hit the road!
Most people know that North Cape in Norway is the northernmost point of continental Europa. The southernmost point is Tarifa in Spain (from here, Africa is only 15 km away).
There are a few challenges when going on a long-distance trip with an electric motorcycle: Will I find charging stations within the battery range (110 – 160 km)? Am I able to activate the charging stations? Can I charge overnight at hotels? Will there be technical issues with my motorcycle?
Follow Sebastian on Instagram and ask all your questions about long distance electric motorcycle traveling.
Do you have any questions about my trip and long-distance traveling with an electric motorcycle? Ask your questions on my Instagram account, and I'll answer them in a follow-up Q&A post.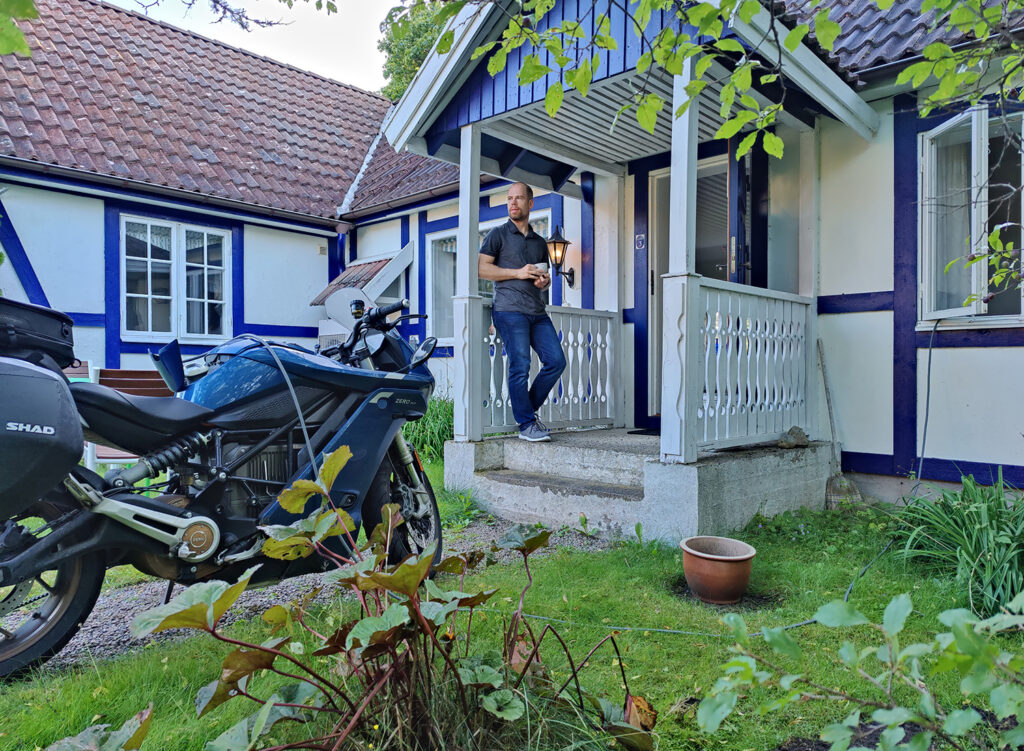 Preparations were not too complicated. There are a couple of roaming providers, which I already used (Plugsurfing, EnBW mobility+, Shell Recharge). Further research showed that I needed additional cards, so I ordered some more (Vattenfall InCharge, ChargePoint, Maingau).
Since I live in Germany, I first had to drive up to North Cape. And of course, I had to drive back home to Germany from Spain. That resulted in 14.760 km driven through 15 countries. I had to recharge the motorcycle approx. 160 times, which cost me 350 €.
Route:
Germany (Würzburg) – Denmark – (Ferry) – Norway (North Cape)
Norway (North Cape) – Finland – Sweden – Denmark – Germany – Netherlands – Belgium – Luxemburg – France – Andorra – Spain (Tarifa)
Spain (Tarifa) – (Ferry) – Mallorca – (Ferry) – France – Monaco – France – Switzerland – Liechtenstein – Austria – Germany (Würzburg)
Follow Sebastian on Instagram and ask all your questions about long distance electric motorcycle traveling.
Every time people saw the electric motorcycle, reactions were extremely positive. Most people did not even know electric motorcycles existed. Others knew but had never seen one out in the wild before. However, after a while, I got a little tired answering the No. 1 question: What's the range of that motorcycle? (My default answer: It depends!)
Charging on public stations went well most of the time, but I struggled with the usual problems from time to time: occupied stations, slow stations with only 3 kW or 6 kW, stations out of order, etc. I had to spontaneously download new apps on my smartphone and provide a domestic address for registration two times. Well, if you want one, you get one…
In hotels, charging went fine as well. Sometimes I had to become a little creative, though. But there's always a window that you can open, and the cable of my charger is long enough. My hosts were always extremely courteous when I told them what I was doing.
The Zero SR/S turned out to be highly reliable. Only a new pair of tires were required, along with a new belt. Luckily I carried a spare belt along. However, that reliability came to a sudden end in a small mountain town in France – almost back home in Germany. One of the three chargers failed, making charging on sockets impossible. Luckily, the battery was full enough to reach the next charging station. For the last 1.400 km, I was only able to charge with 66% charging speed; without the socket charging option at hotels. But I made it back home, and that is what matters in the end!