Sponsored press release | DAYI Motor has unveiled their new high-performance electric motorcycle eOdin Pro, which is upgraded on the basis of eOdin 2.0 released in 2019. As a reliable and experienced manufacturer, DAYI Motor is constantly updating and verifying the technology through the feedback of their best-selling product eOdin 2.0 to create more powerful eOdin Pro products step-by-step.
The technology department has succeeded to develop the next generation AMR hub motor for the eOdin Pro 120AH. Equipped with the new generation AMR motor, e-Odin Pro covers not only the advantage of maintenance-free on traditional hub motors, but also the excellent gradeability and acceleration performance comparable to mid-mounted motors, longer life and better quiet performance.
Discover the eOdin Pro model, which will completely change your everyday life. The new eOdin Pro has 12000 W max. motor power with 120AH battery capacity up to 220 km range. Be impressed by our e-mobility solutions and discover the many advantages of the silent future. Perfect for everyday use, especially when car parking is limited. Thanks to its steering wheel lock, it is also very protected against theft. Its style and performance make it the ideal model for the most demanding riders. A design to fall in love with!
Not only an innovative design, but also its high-quality components make it a safe and smooth-running model. Forget starting breakdowns, petrol and the time-consuming maintenance of a petrol vehicle. Charge this electric motorbike wherever you need it, because the charger, with an on board output of 25A and also on board Type 2 port, fits into any conventional socket.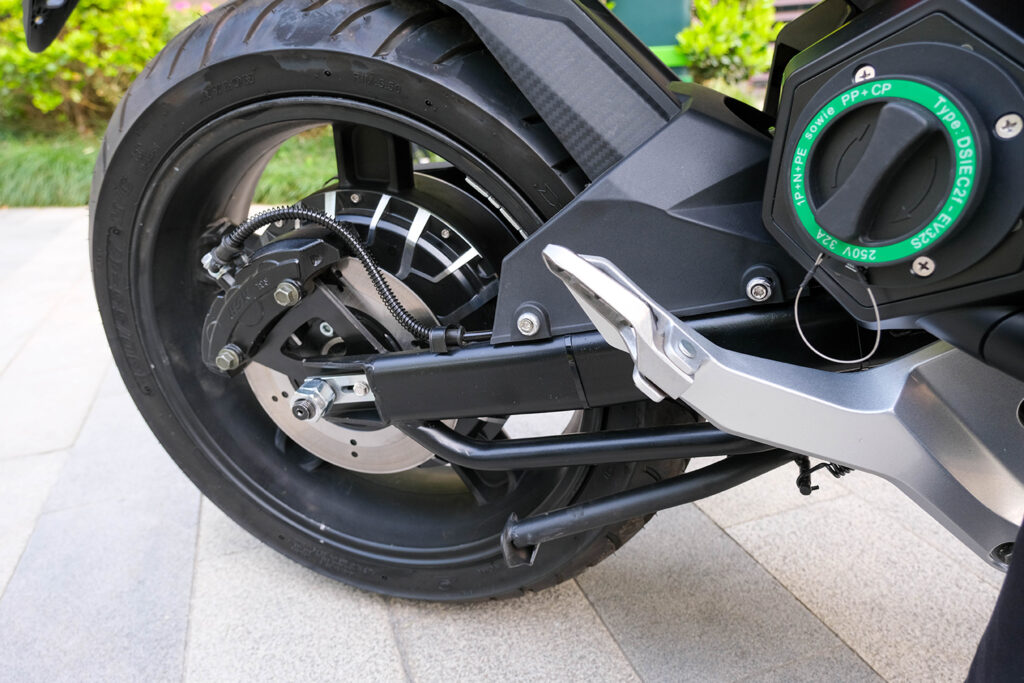 Not only is it easy to handle, but it also offers absolute safety while driving, as it is equipped with a headlight, very good front and rear disc brakes, front and rear shock absorbers and a loud horn.
One of the great innovations in its design is the dual display. So you never lose track of speed, total mileage and battery level. The great vehicle also has three speed levels. You can use this to throttle the speed, of course only if you want to.
You can cover 100 km of range for less than 1 € of electricity – plus, much easier and cheaper maintenance, book one more holiday a year! Forget about filters, oils and seals – No bad smells, no oil stains, no refueling at gas stations and much cheaper spare parts compared to the petrol ones – No annoying noises, hear the sounds of relaxing nature for the first time while driving.
Technical specifications and features
AMR Hub motor 10KW constant power (low-wear and low-noise brushless motor)
Speed Max. 120 km/h
25A On board Fast Charger
Type 2 charge port
Battery Max capacity 10 KWh
MAXXIS radial tire, front 120/70-17, rear 180/55-17
Hydraulic rear disc brake with ventilated disc and CBS
Double reinforced hydraulic front suspension
In order to better enter the future market, DAYI Motor has strict requirements for the selection of dealers. With the joint efforts of professional dealers around the world, we believe that eOdin Pro will become a dark horse in the market, let's wait and see!
To apply to become a reseller, please click on their official website:
About DAYI Motor
Zhejiang Dayi Industrial Co.,Ltd was founded in 2013 and is the manufacturer of the CITYCOCO scooter. The company was certified of ISO9001 and all series of products were certified of EEC and COC in EU. DAYI Motor has a dynamic and passionate team, a strong technology department with independent research and development capabilities. A professional sales department which provides effective communication on a regularly basis, and of course a good after-sales service. Quality control ensures a high safety check for each vehicle.